Violence and Challenging Behaviour Conference
Our 2018 conference is aimed at providing Parents/Carers and Practitioners with a greater understanding of the impact of Child to Parent Violence and Aggression on the child/young person and their parents/carers, and provides examples of different strategies and approaches to help manage this.
Programme:
Morning (09:30am – 12:00pm):
Session 1: What is Violent & Challenging Behaviour & why it differs from other forms of child to parent aggression? – Yvonne Newbold
Session 2: Solutions and Strategies for managing behaviours – Yvonne Newbold
Q&A
Networking lunch included for all delegates
Afternoon – Parallel Workshops:
Parents/Carers (12:45pm – 2:30pm):
Workshop – Aggression towards siblings – Monica McCaffrey
Q&A
Practitioners (12:45pm – 3:00pm):
Workshop – Strategies for de-escalating challenging behaviours – Mark Brown
Q&A
Prices:
EARLY BIRD NOW EXTENDED TO MIDNIGHT ON SUNDAY 18TH MARCH!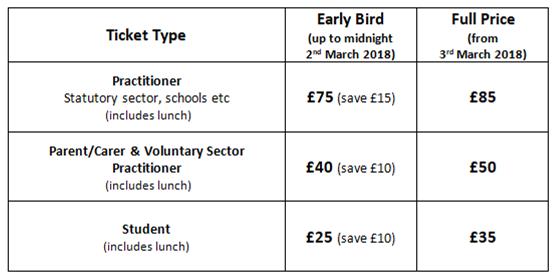 If you're a Parent/Carer and your personal circumstances will make it difficult for you to attend, please do contact us using the 'Contact the Organiser' button, and we'll endeavour to come to an arrangement.
Speakers:
Yvonne Newbold
Yvonne Newbold is a writer, speaker and trainer who is also the mother to three children, including Toby who is multiply disabled with profound learning disabilities. She is passionate about doing whatever it takes to make things better for children and adults who have a neurodevelopmental condition or disability, as well as for their families.
Yvonne is the author of The Special Parent's Handbook, covering every aspect of Special Needs Parenting and sharing all that she learnt about making life easier. The book is an Amazon #1 Best Seller, and she has since won three awards; HSJ Top 50 Inspirational Women in Healthcare 2014, Learning Disability Today Parent/Carer Advocate Champion Award 2015, and The PENNA Award 2016 for Outstanding Contribution in Patient Experience.
Monica McCaffrey
Monica McCaffrey is the founder and Chief Executive of Sibs, the only UK charity for siblings of disabled children and adults.
Monica founded Sibs in 2001 and has been CEO since 2004. She has worked with siblings and their families for over 25 years – delivering direct support, leading workshops and presentations on sibling issues, training professionals on running sibling groups, and working with statutory and voluntary organisations to develop resources and service provision for siblings. Monica is co-author of Special Brothers and Sisters: Stories and Tips for Siblings of Children with a Disability or Serious Illness, Jessica Kingsley Publishers, 2005. Monica is an adult sibling and has a younger brother who has Down syndrome and autism, and another of her brothers had a life-limiting condition and died in childhood.
Mark Brown
Mark Brown is the founder of Special Help 4 Special Needs, and has over 30 years experience working with people with special needs, including working with children with special needs since 2000.
Mark's work provides an individualised, practical based approach which aims to provide the child/young adult and those around them with the tools to explore themselves as well as help their further development.
FAQs:
What are my transport/parking options getting to the event?
The Pavilion is a short walk from Reading Town Centre, Reading Railway Station and Reading West Railway Station.
All buses stop in Reading Town Centre, with the No.s 15, 16 and 17 buses stopping right outside. The No. 33 bus stops outside when it enters the Town Centre.
The nearest car parks to the venue are Q-Park Chatham Place (3 minute walk away), followed by Broad Street Mall (7 minute walk away). Further details and prices are available via the links.
There are a limited number of car parking places available on site, which will be exclusively reserved for Blue Badge holders only. Spaces will be allocated on a strictly first-come, first-served basis, and can be applied for through the online booking process.
Is the venue wheelchair accessible?
Yes, the venue is wheelchair accessible. There is a street-level door to access the building at the side in Russell Street, and the Auditorium and Seminar Rooms are accessible via a wheelchair lift. If delegates require any special assistance, please make us aware of this by completing the relevant section in the booking process.
Can I update my registration information?
Yes. Just log in to Eventbrite, choose the event, and you can edit your personal details and workshop choices. You can also use this method to alter the name of the attendee.
Do I have to bring my printed ticket to the event?
If at all possible, please bring your printed ticket to the Conference, as it will help to speed up the registration process. An electronic image from a smart phone of the QR code on your ticket will also be acceptable.
What is the refund policy?
Refunds requests will only be available on Early Bird tickets, and when made in writing. All other requests will only be considered in exceptional circumstances, and are entirely at the discretion of the management of Parenting Special Children.
If you have any other specific questions, please do not hesitate to contact us though this website, by emailing admin@parentingspecialchildren, or 0118 9863532.